We know your heart is just bursting at the seams at this new beautiful face you have created & cannot WAIT to share those first precious photos!
The Fresh48 Hospital Newborn Photo Session are a documentary style session that takes place in your hospital room typically on discharge morning (or after you are home within baby's first 48 hours of life.)  This session includes a 48 hour turn around for images (because let's face it, you are bursting at the seams to share professional images of the new little face that just entered your life!)  Photographer is on call for the time-frame around your due date, and the session includes getting baby details and photos of immediate family members with the new fresh face! <3
SESSION DETAILS: 
What's included?: A 45 minute session with YOUR CHOICE OF:  45 minute session in your post-natal hospital room & 10 digital images via online. Images are generally a 48 hour turn around time-frame. 
---
Sessions booked at least 30 days in advance of due date also include a personalized keepsake swaddle blanket for you to take home! 
---
***ADD-ON: Digital images do hold great value to our clients  due to the unlimited printing ability, plus it's a great way to insure that your images are safely stored on a custom USB for later use and sharing. Upgrade to a keepsake USB keepsake box (left) for $79 or a USB print box with 10 mounted 5×7 prints for $150 (right). 
What is the fee?: The fee for the included session and included products is $350.  All sessions come with web resolution watermarked images as well and a phone app when images are delivered. 
Product delivery on the woodboxes  is usually within 3-4 weeks, but you will have your web resolution copies for sharing within 48 hours of the shoot.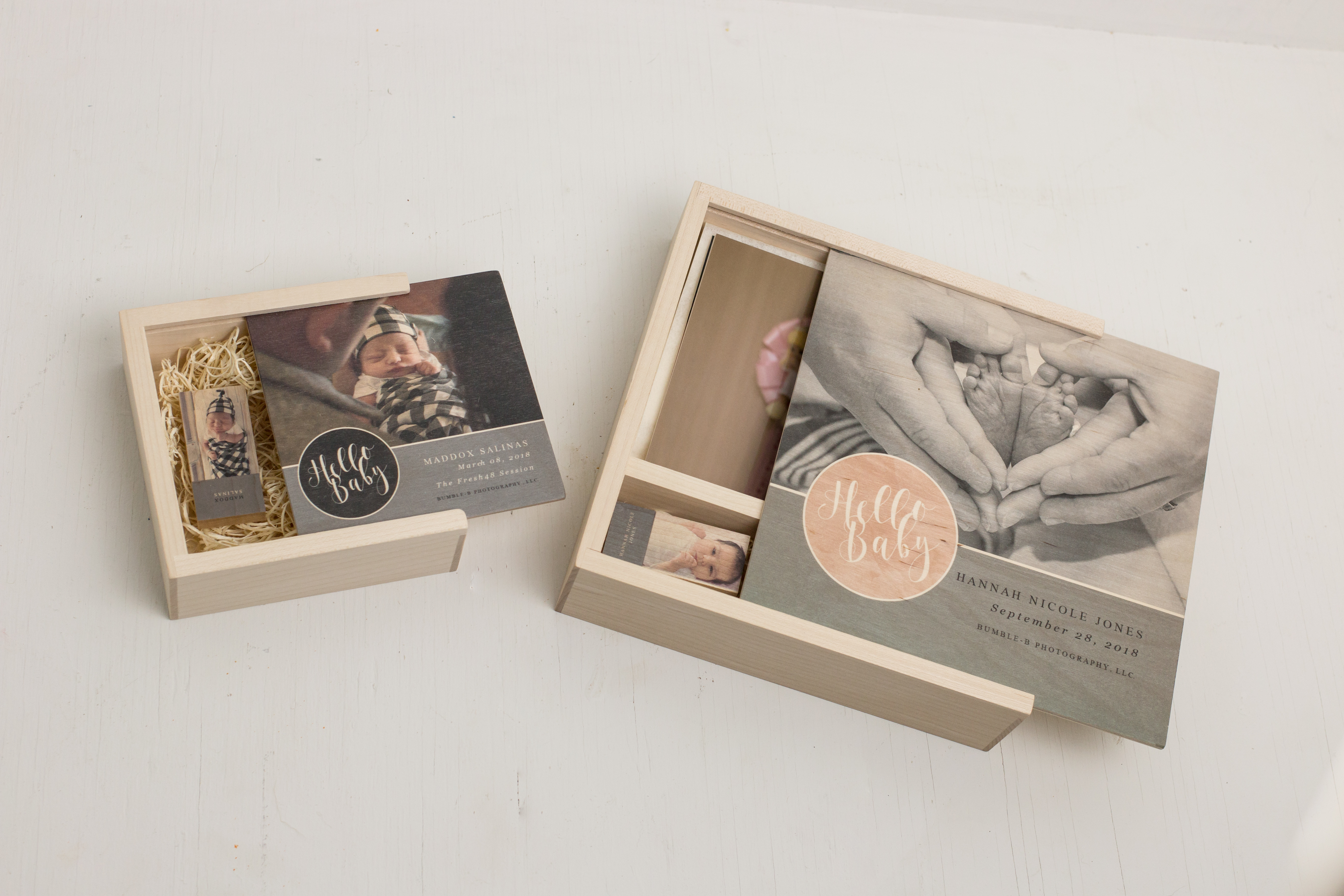 Fresh48 sessions are typically completed the morning of your discharge from the hospital before you and baby leave. Initially, I will schedule you for your due date. When you deliver your baby, and are settled into your post-natal room (no rush) just shoot me a text over and let me know that your baby is happily Earth-side and I will gladly schedule your Fresh48 for your discharge morning (just let me know when that will be), and I will come to your room and take images of your baby, baby details, photos with mom and dad, siblings and other immediate family members such as grandma and grandpa if you wish!  Images are delivered within 48 hours of the shoot (your web-resolution copies for sharing, also if you selected the print option.) 
Fresh48 is included with our Belly to Baby session combo – which allows you to get 10 digital images with print release and our 48-hour turn around so you can start sharing your professional photos of your sweet baby as soon as possible!
CONTACT US TODAY TO RESERVE YOUR DUE DATE! 
IN HOME FRESH48: Want to have your Fresh48 take place in the comfort of your own home?  We can do that too! Fresh48 images are generally captured within the first 48 hours of life, and we can come to your home for a natural light session as well. No posing for baby, and minimalistic posing for beautiful immediate family connection photos for you!